We're technically two organizations teamed up together,
a
"Peaceable Assembly of Civilians
" 
("Peaceable Assembly")
, & also a "Civil PAC" called
"Wild Willpower PAC
".
      A Civil PAC can receive Campaign Contributions just like any other type of Political Action Committee

("PAC")

, however that's not the only way to Get Involved.   
We recently received our registration packet from the
Federal Elections Commission
, & we'll soon officially register as the country's first 
Civil PAC
. 
     Here's a fairly ridiculous-looking, but accurate flowchart you can click to enlarge, or scroll down to view our work.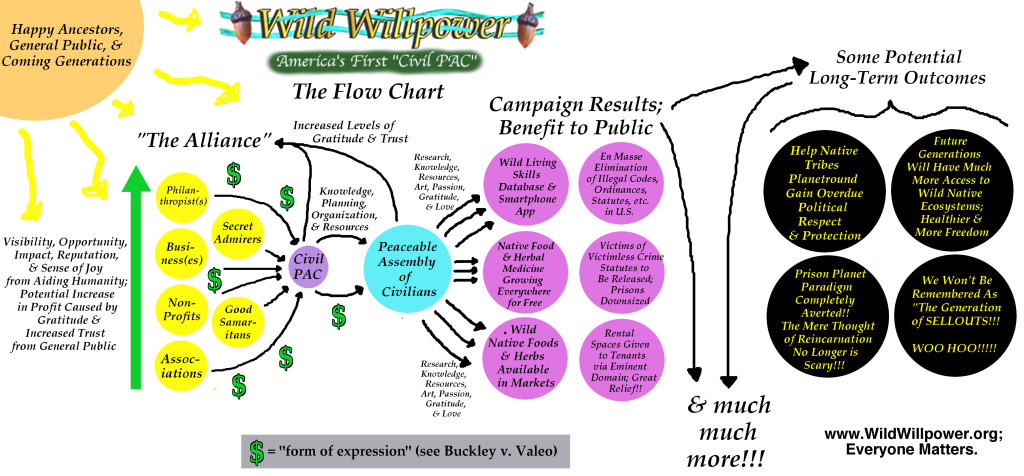 Endorsement Letters on Our Behalf:
Click to view each of these dynamic sections of our platform:
Educational Resources:
All Websites:
    All aforementioned content, including all copyrighted content which is used in accordance with
Fair Use
laws has been
peaceably assembled
 for
First Amendment
purposes, & is solely owned
by Wild Willpower
.  All content used in accordance with
Fair Use
is owned by their respective authors.  
According to section 101 of the U.S. Copyright Act of 1976 (17 U.S.C. 408), registration of a work with the Copyright Office is not a prerequisite for copyright protection.

[1]

  
Content throughout our sites may not be used without written permission by Wild Willpower PAC

(Distance@WildWillpower.org)

except for the purposes of promotion of Wild Willpower as an organization.  
Thank you for reading through our work.  
Truly
, your support means a great deal to our team.  We are solely funded at this time by the few people who take the time to
support the cause
.
Sincerely,
References:
[1]:  "Registration of a work with the Copyright Office is not a prerequisite for copyright protection": U.S. Copyright Office – Copyright Law: Chapter 4 : https://www.copyright.gov/title17/92chap4.html#408