A Message from The Founder of Wild Willpower, Distance Everheart:
      www.WildWillpower.org would not have been possible without the people who picked me up hitchhiking or gave me a place to stay, a meal , or a dollar or two along the way.  I began walking & hitchhiking the USA following September 11th, 2001 at age 21 to use less gas & write songs to protest what I thought was "an oil war" at the time.  I sought to learn to live among the wilderness in peace, & documented the journey through the songs that came to me on the guitar- many of which are still not recorded.  
      Below are just a handful of the hundreds of people who picked (me) up hitchhiking along the way.  This organization was built on this love & this is the spirit of what we intend to pay forward:
   Wild Willpower would have been possible without the kindness of good samaritans who gave their trust & time to help an often "dirty hippie" who was simply looking for & dreaming of a kinder world would have a place to simply be, & that others with differing ideals would also have their space to legally live among the wild as well.
2016-2017 – Still On the Road:
     Due to the fact that Native Americans were calling out for help from people around the world, it felt apparent to both me & my partner Kevin that we ought to just get our belongings together, have faith, & hitchhike to Standing Rock.  Some photos from the hitchhike: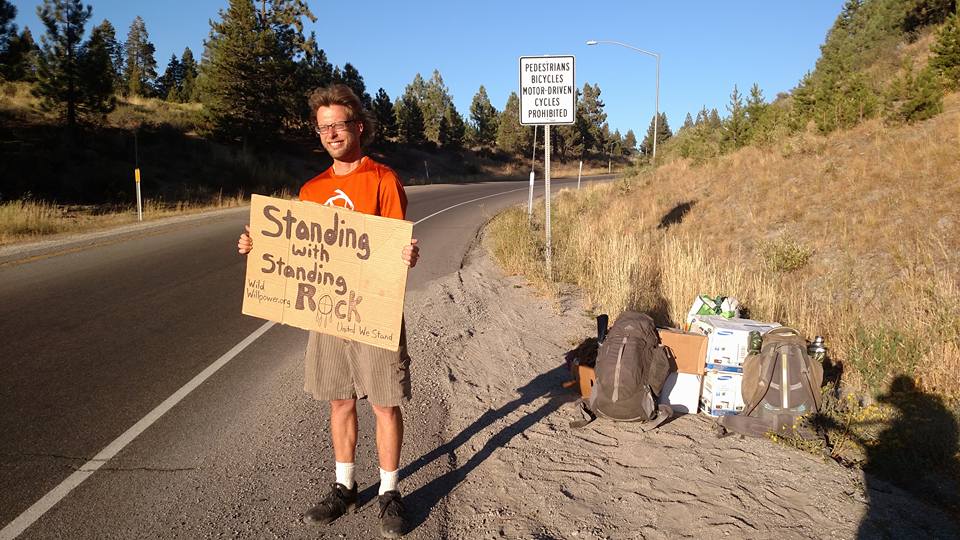 "Downtown Michael Brown", helped Kevin Byrd & I in early 2014 get from point A to point B- just to help out:
   More videos will be posted to this page soon- here's another:
   Here's are just a few (an extremely small percent) of the people who picked me up hitchhiking along the way over the years.  These people are the heart of everything Wild Willpower stands for- our plan is to pay it forward.
(If I screwed up any of your names or you'd like to add contact information or a bit about yourself or a quote; Distance@WildWillpower.org OR 415-798-7457)
Calvin Lee Walker:
Joyce Crew:
Jeff Taylor:
Chuck & Clair near Government Mountain, Arizona:
Juan O.:
Dan Miller (Northern California):
David Lemonhead Lobato (Moab, Utah):
Dallas of Sonoma Desert:
Distance & cool guy in Colorado:
A family from New Zealand:
Distance with Steve Miller & Joan Miller at their home in Moab, Utah:
Ernie Brown picked me & my friend Jason Baker in Northern California:
Christopher Rae, a really cool highway patrolman in California that gave me a lift further up the road while I was particularly dirty (it ain't easy):
Hitching with my friend Rain Lou Aster (Chelsie Smith), Christopher Rey picked us up:
Austin Thomas:
Stuarte of Petaluma CA fixing Distance's original set of Lightning Dancers:
Analisa Phoenix in Arizona:
Randy Bolt (Northern California):
Distance & Richard from Alturas, CA:
Steve:
A trucker named Daniel Nelson on way from San Jose to Lake Isabella (a lot of truckers picked me up):
Jacob:
More videos & photos coming as I dig them up!
Wish I had the names for these peeps:
    Its hard to stay organized on the road- I was robbed over 20 times so just did my best to keep it together.  People below include (in no particular order unfortunately) Don Waley, , Jackson, Joachim Preinesberger, Micah Janet & Wynn, Richard Smith of Nebraska, & Samuel Edgar.
Back to www.WildWillpower.org